---
SENIOR WEEK 2021 WEEK 3 SCHEDULE
The Live Entertainment Event Package for Senior Week 2021 in Myrtle Beach, SC, the #1 Senior Week destination in the country!
The MyrtleManiac Card includes your nightly entry fee into Senior Week's biggest live event theme parties, including Pardi-Gras, Wet & Wild Foam and Glow. You will also receive discounted admission into the FUSION Live Concert Experience (certain weeks only), amazing discounts on additional entertainment, food, scooter rentals and much, much, more!
---
---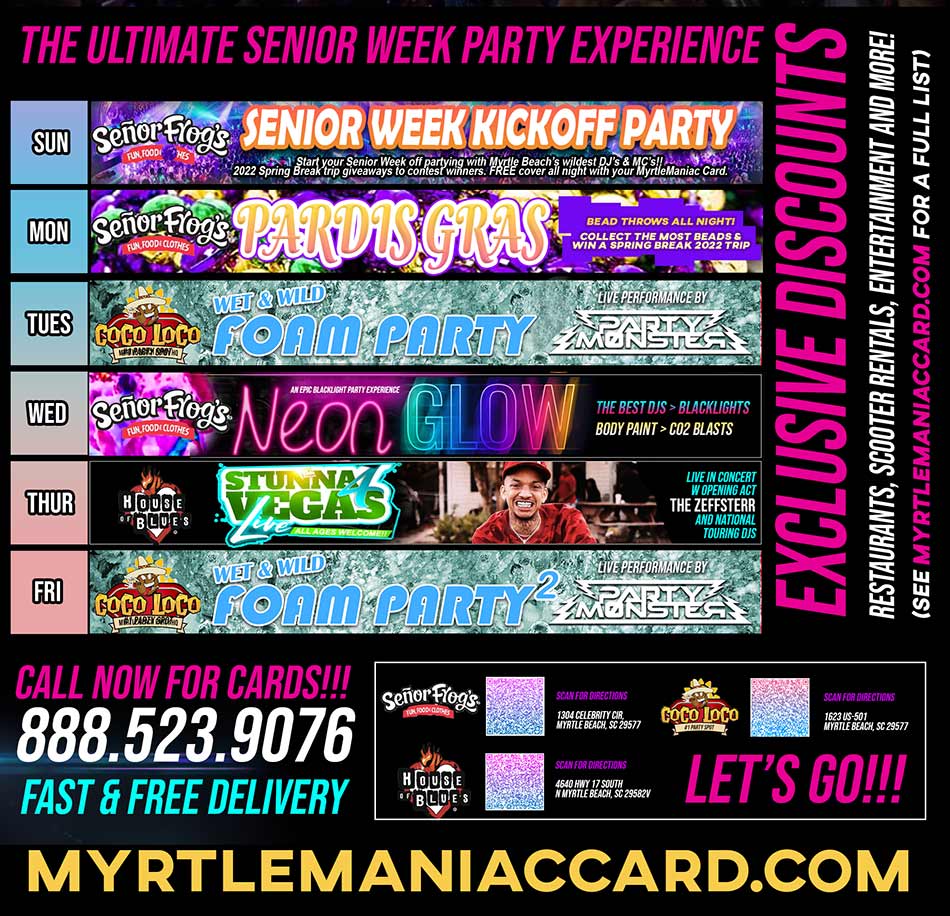 ---
Print your order confirmation and redeem your MYRTLEMANIAC CARD at a designated distribution center upon arriving in Myrtle Beach. (Locations found in your confirmation email)
Note: When you pick date to attend choose the Saturday that begins your week. If you arrive on a day later in the week your card will still be available for pick up and will be valid for 7 days from day you receive your card.
GET YOUR CARD EARLY AND SAVE BIG BEFORE YOUR WEEK BEGINS
Save $10 on using promo code MANIAC at checkout *must be used before the Saturday that begins your senior week experience)
DON'T WORRY IF YOUR WEEK HAS STARTED…
Met a MyrtleManiac sale rep? Use their promo code at checkout to save money after your scheduled week begins. If you don't have a rep code, call the hotline at 888.523.9076  and we'll hook you up. 
We're here to help you have the time of your life – Let's gooooo!!!
---
Buy Week 3 Card Now